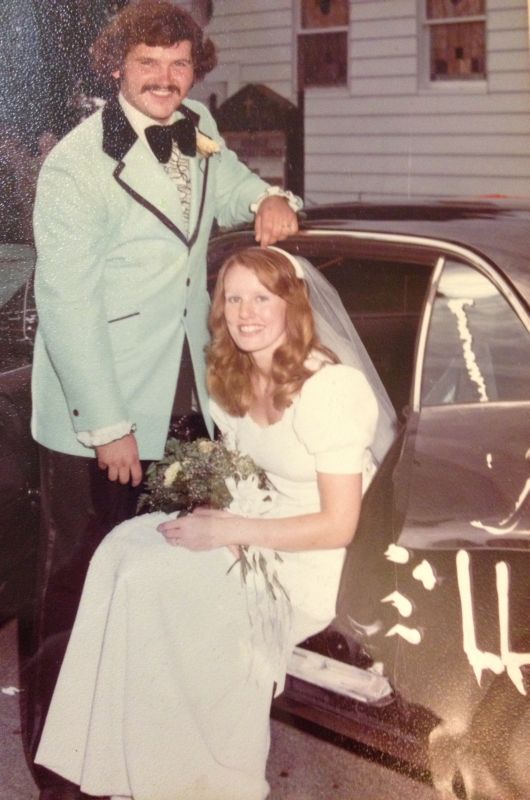 After my mom died in 2000, a strange thing happened–now that she only existed in pictures, I started to remember her the way she looked in pictures, even pictures that were taken before I knew her. This one from my parents' wedding, with them sitting in the brand new Dodge Challenger that my dad whisked her away to their honeymoon in and that my mom hated because she wanted an orange one, is one of the main photos I think of when I think of my mom. And it was taken back in the 70s, before I was born.
Today would've been her birthday, and I was thinking just recently about how I'd love to know what she would be like, what things would be like, if she was still around. Would her style have changed, or would she still be wearing the floral prints and blazers with shoulder pads she was into before she died? Would she still be putting her strawberry blonde hair up in hot rollers every morning to achieve that wild bouffant held back with tortoiseshell combs, or would she have finally learned to love her straight hair? Would she and my dad still live in that same little farmhouse where I grew up? Would I still sleep in the same bedroom I used to share with my sister whenever I came home to visit? Where would my sister and her husband sleep when we all came home for Christmas?
Her death from brain cancer was a singularly heartbreaking occurrence in my life, but in the grand scheme of things, it doesn't seem like such a big deal. Everyone's parents eventually die, and we eventually follow them. Who do you know at this point who hasn't had to deal with a tragic death? I lived on and ultimately became a stronger, more independent person for it. But when you think about how that one thing changed every single thing that came after it, it's mind-spinning. Would I even be in NYC right now if she hadn't died? Would I love photography and Jack and pizza the same? What would she have told me to do differently? As much as I wonder who my mom would be today, I wonder who I'd be if I hadn't lost her.
---