Read about Days 1 and 2 in Japan here, Day 3 here, Day 4 here, and Day 5 here.
On the night of Day 5 in Japan, it was finally time for our dinner at a restaurant with 3 Michelin stars, which Tokyo has plenty of. Making a reservation was one of the more memorable experiences of my life, especially after finding out that some restaurants won't reserve a spot for Americans unless you book through your hotel. (I have no idea.) As I said in my review, we ultimately chose Nihonryori Kanda in Motoazabu, and I'll admit that I was a little afraid of our decision. All of the reviews I read said that this was true Japanese cuisine with all of its subtleties and nuances and that American palates wouldn't be able to appreciate its beautiful simplicity. I didn't want us to spend ¥15,000 to ¥25,000 (~$150-$250 US) and walk away feeling like we'd had a couple of flavorless vegetables and three slices of fish, but we wanted to challenge ourselves.
When chef Hiroyuki Kanda came in to introduce himself and ask us our preferences for the meal, we'd decided that I'd tell him we were "semi-adventurous eaters" who were up for being challenged "a little bit". Instead, I got nervous and shouted, "We'll eat anything!" So what he gave us, of course, was my most dreaded of all challenging foods: a thing with its head still on. But what're you gonna do? When in Japan . . .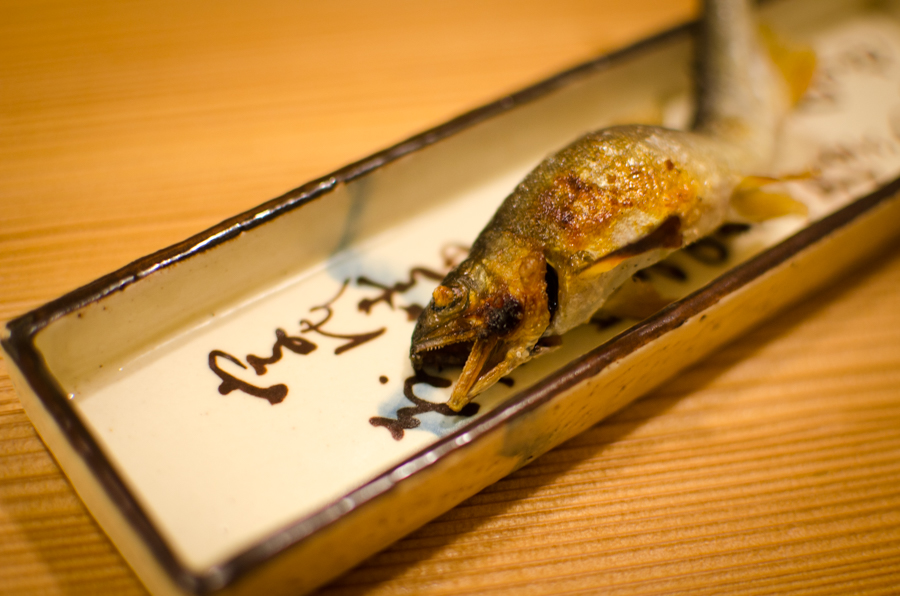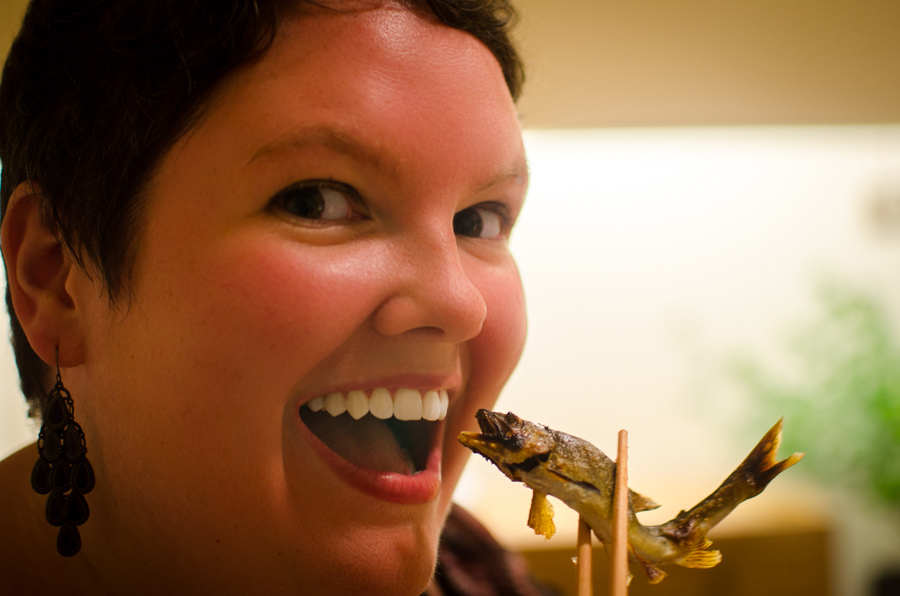 And it was pretty great! Like eating a really crispy French fry with eyes. And, you know, teeth.
We also had one of the most memorable dishes of my life thus far, tuna belly covered in an unnecessary (totally, totally necessary) amount of shaved black truffles: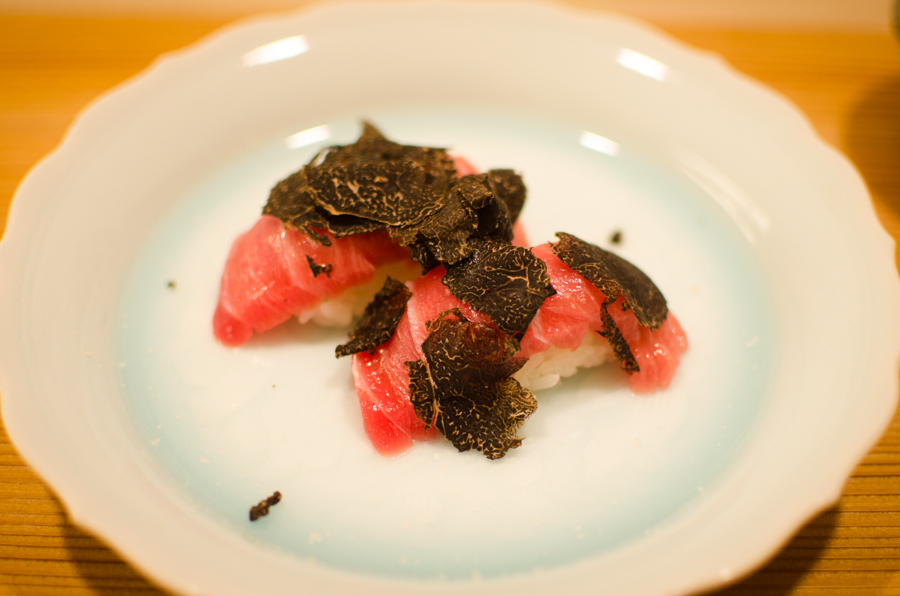 Basically, the meal was one I'll never forget. We had nothing to fear (even despite the head-on sea creature) as far as being able to appreciate the nuanced flavors goes, and I actually think this is the kind of meal that Americans who shy away from pretentious American food might go for. It was simple in a way that let us appreciate the really fine ingredients, and there was none of that white-gloved hoity-toity snobbery you equate with good service in the U.S.
And because I'm really helpful, here's a shot of what the door to Kanda looks like,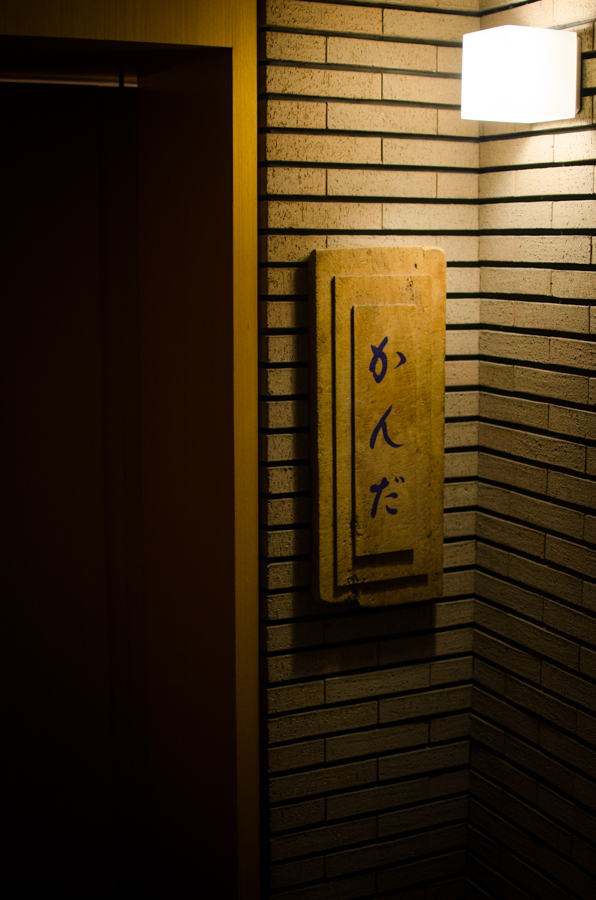 because you'd never guess that anything on this tiny street is a restaurant: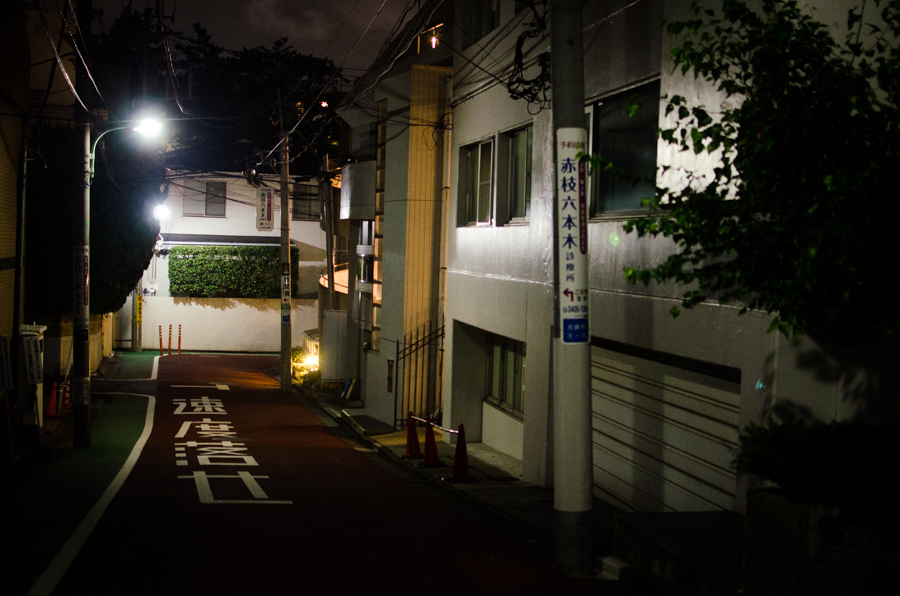 And be sure to take a selfie in the traffic mirror with your friends as you leave, because you are a tourist: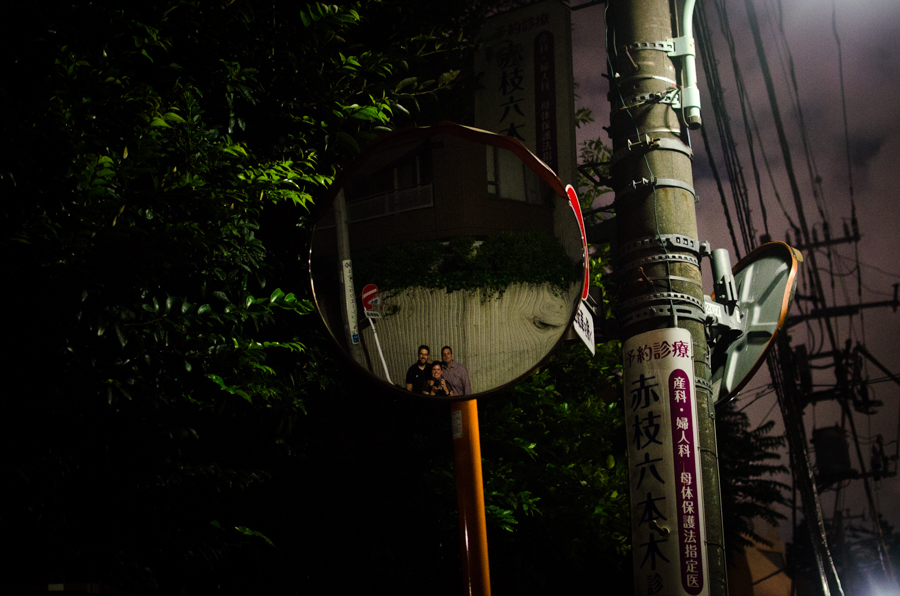 Afterward, we walked from the very quiet residential area where Kanda can be found into Roppongi, which my boyfriend, Jack, described as the place for Americans in Tokyo to sing karaoke and pick up prostitutes.
We found a spider sculpture as big as a building with a disgusting, nightmare-inducing eggsack sculpted under the belly,
buildings that just looked really Japanesey to me (maybe it's the Japanese writing, huh?),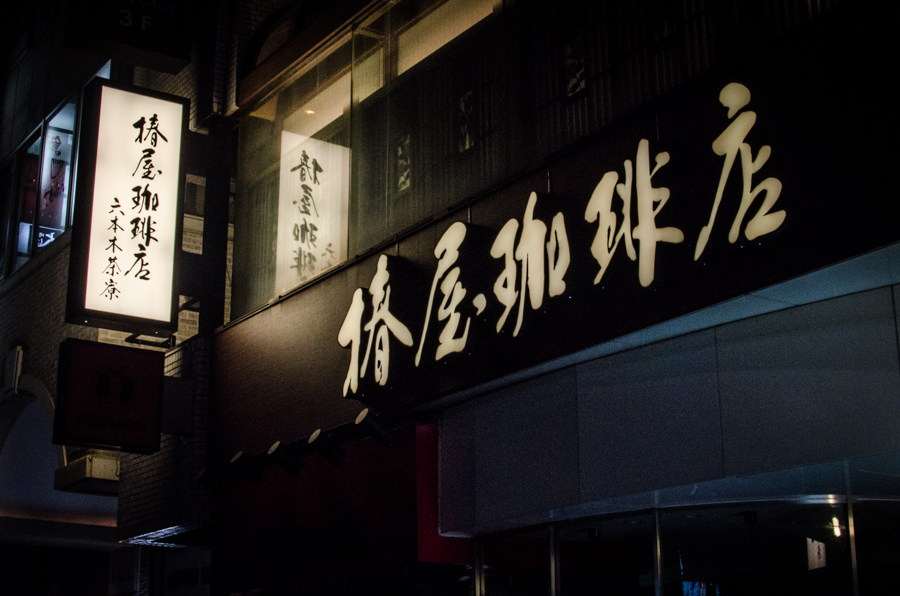 and Tokyo Tower at night: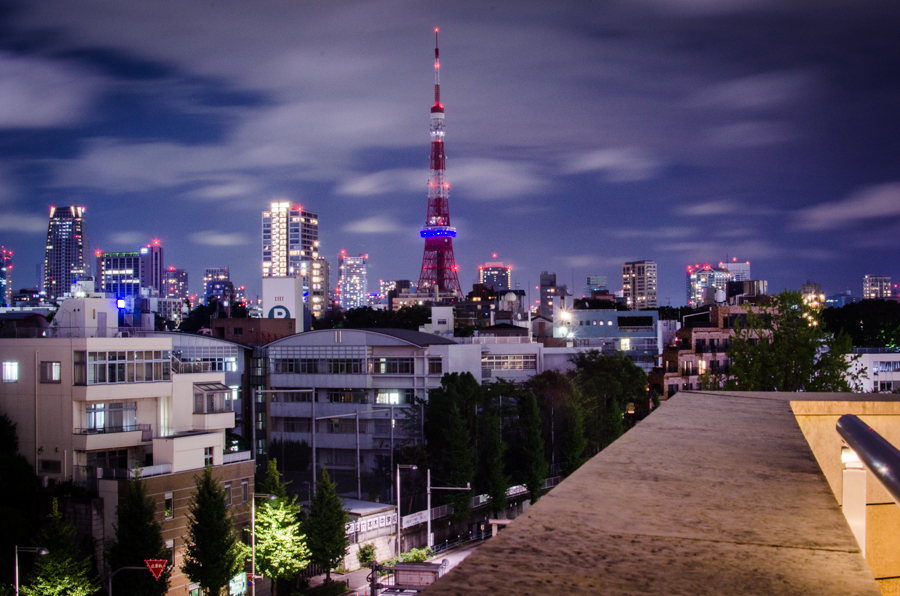 And then it was time to go! We spent one last night in our apartment with the weird corduroy pillowcases and woke up to find that Tokyo was sending us off with the first bad weather we'd seen all week: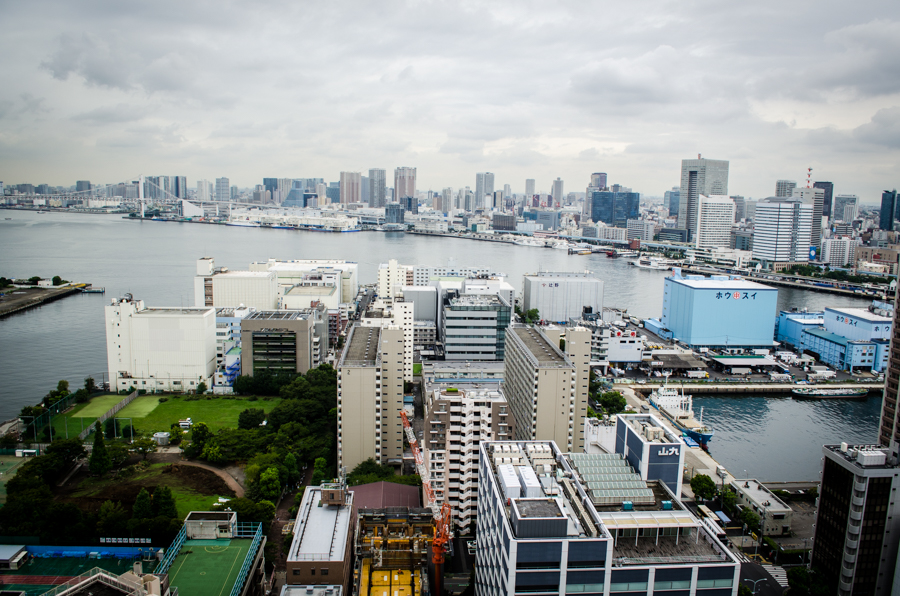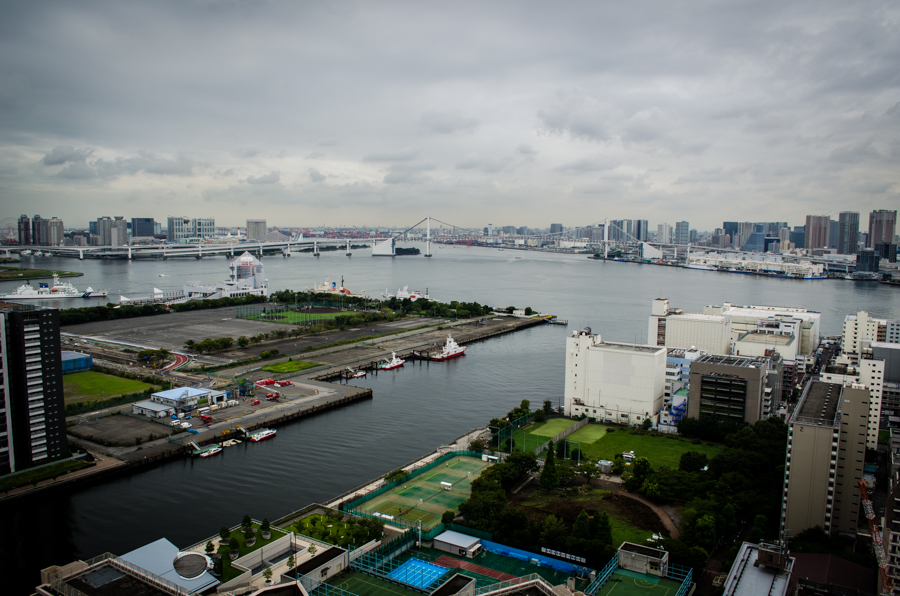 We waited for the train one last time,
ate one last bag of weird Japanese candy while we waited,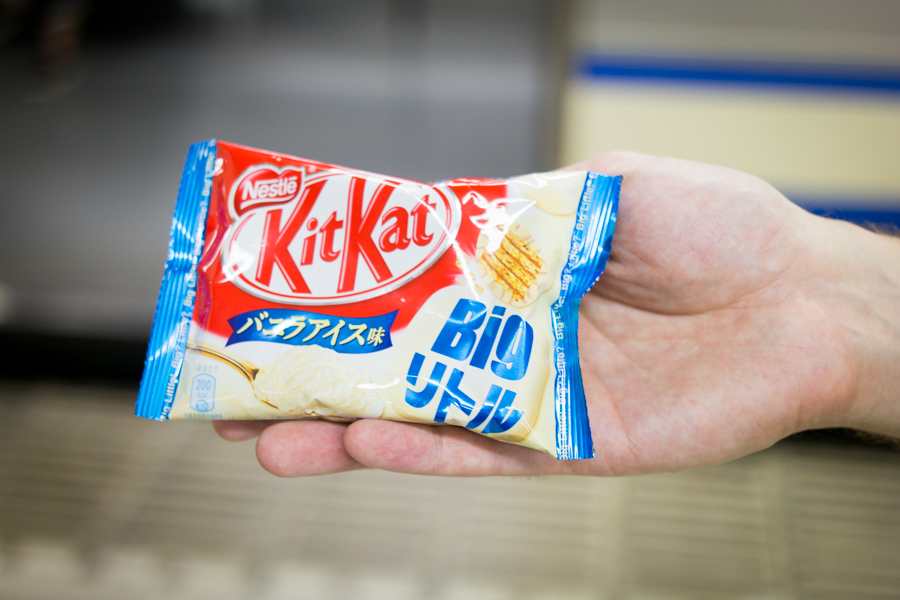 drank one last bottle of sweat water(!)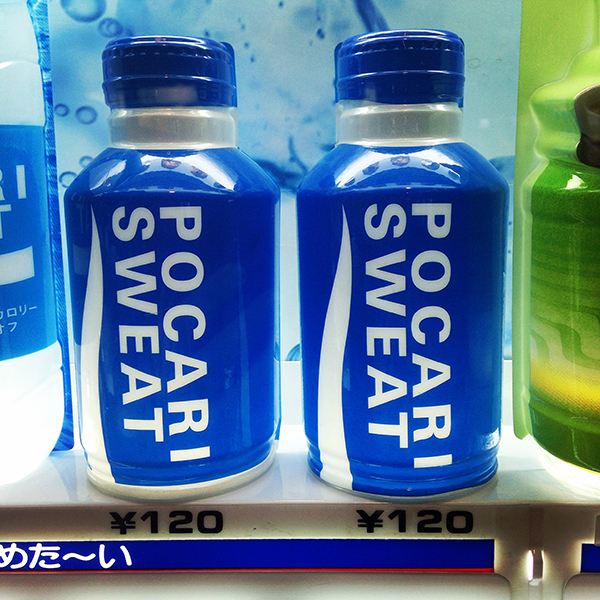 and really lamented having our last bottle of Schweppes Grapefruit Passion: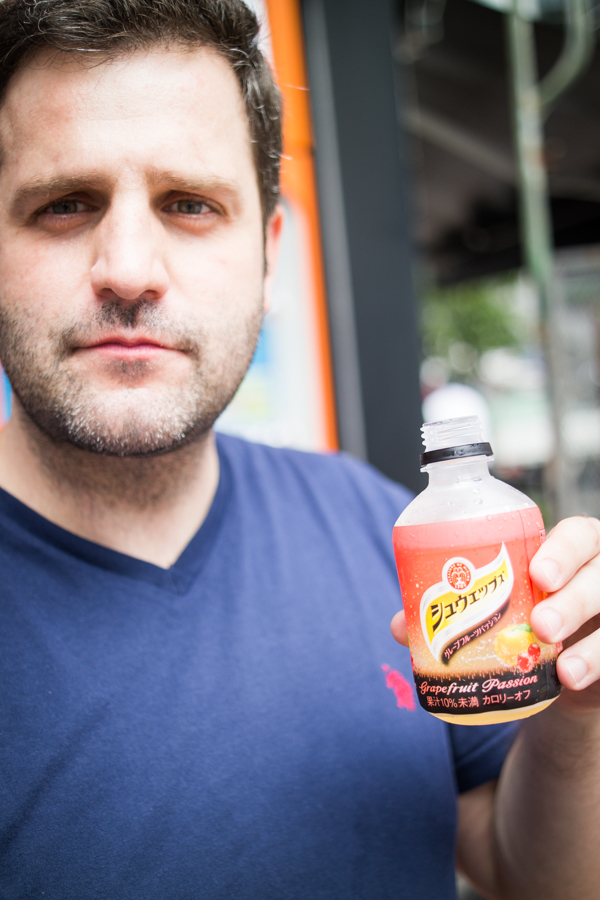 This is Nik's lamenting face.
We took the N'EX back to the airport, past the Tokyo Skytree for the last time, just one of many, MANY things six days in Japan doesn't leave you time for: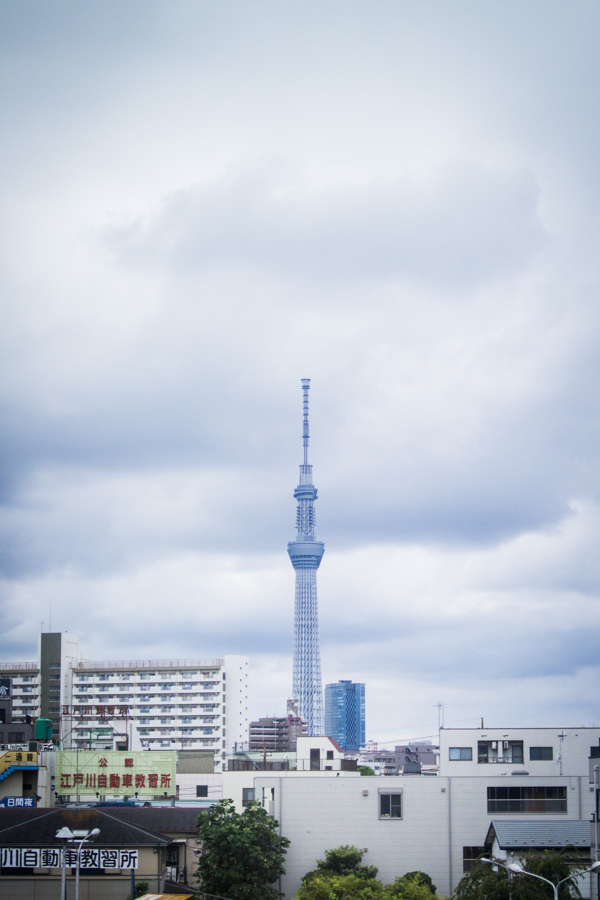 We passed the guy we lied to about the Mt. Fuji bear sticks, and the lovely United Airlines ticket counter lady let us check them as oversized luggage for no charge.
We had time to waste, so we stopped in one of the airport gift shops and found a STASH of the special Japanese Kit Kats in four flavors: Uji Matcha (green tea), Sakura Matcha (cherry blosson green tea), Strawberry Cheese Cake, and Hokkaido Red Bean.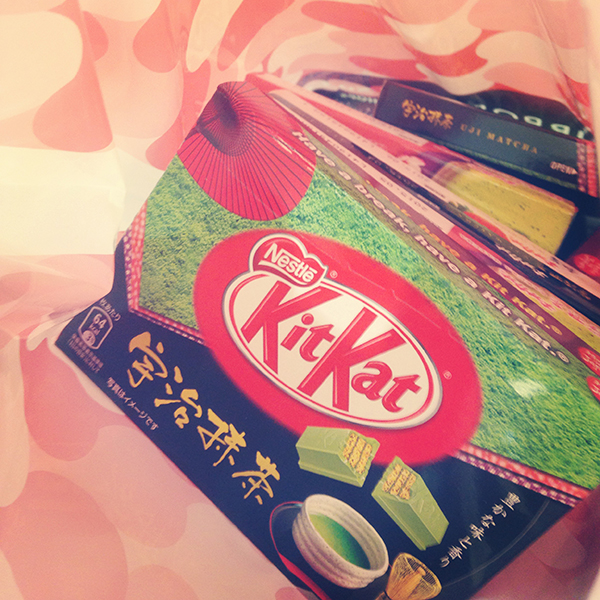 I spent SO MUCH of our time slipping into convenience stores whenever Jack and Nik stopped watching me for a second and got more and more frustrated as I kept finding nothing but fettucine gummies and raspberry M&Ms (okay, those were both pretty great). And it turns out all of the Kit Kats are right there in the airport. HMPH. So, don't waste your time looking for them elsewhere in the city. Or, you know, do if you love sniffing yuzu in the produce sections of strange grocery stores in foreign countries.
And then 13 hours later, we were home! And we were kind of obsessed with Japan still. It's almost a year later, and my most annoyed friends will tell you that I bring up Japan in some way at least every few days still. Have you used my bidet? I was desperate for one after I came home from Japan. Have you seen my Zojirushi? I bought it in Japan. Oh, those Emojis you don't understand? Well, I don't understand them, either, but I'll stare wistfully at the clouds as I tell you, "Some things in this world aren't meant to be known by people like you and me, man. Some things are too great to be understood by people like us."
I'll attempt to wrap my overall feelings about the trip up into a few short paragraphs in my next post!
---