The way we ended up in Japan was sort of an accident. A group of my NYC friends and I have been going to places like the Hamptons and New Jersey for the past several years, but the year before last, we went wild and ventured to Puerto Rico. You know, far enough away that people would give us credit for leaving the country even though our American dollars were totally accepted there. And then last fall, we talked about maybe trying something even farther away, somewhere that might even require a passport. The original plan was Greece, for some reason. Maybe because their economy was falling apart and we figured we could take advantage of their neediness? But then we looked up plane tickets, and Jack exclaimed, "Why, for that much, we could fly to Japan!" Because he's a very worldly man and had been there once before. And so then we just decided to go to Japan, even though no one else in the group was on board with going to Tokyo Disney, because these people have no souls.
So six of us spent nine days in the Philippines last August, and then Jack and I went on to Japan with our friend Nik. We rented out an apartment in the Kachidoki section of Tokyo for, like, mere cents. Well, it was $250 a night, but that's cents in Japan, and it was an entire apartment with bedrooms aplenty, a special "Japanese room" decorated in the old style with tatami mat floors, and a balcony with this view: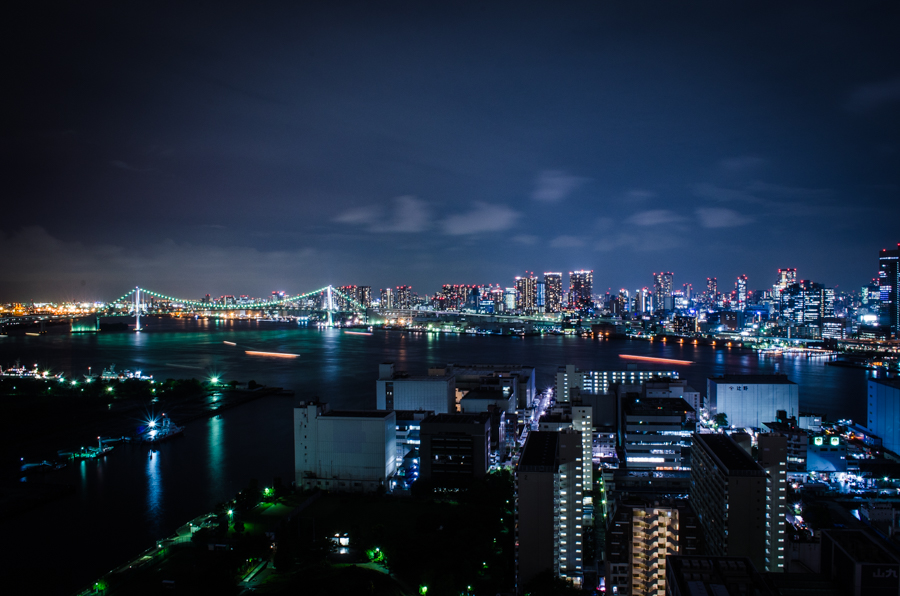 We took the Narita Express (N'EX) train from the airport, and I decided while holding the delightfully incomprehensible tickets that I was going to Instagram the hell out of this trip. In the end, this will be one of eight entire photos I Instagrammed: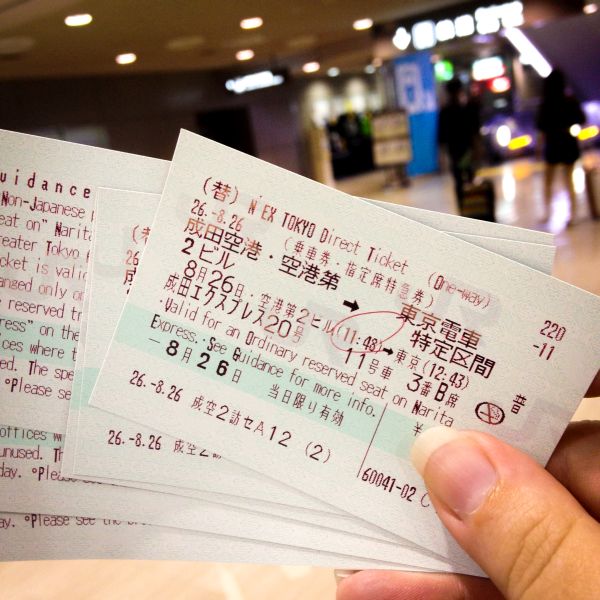 Jack had rented us a mobile phone at the airport for an astronomical amount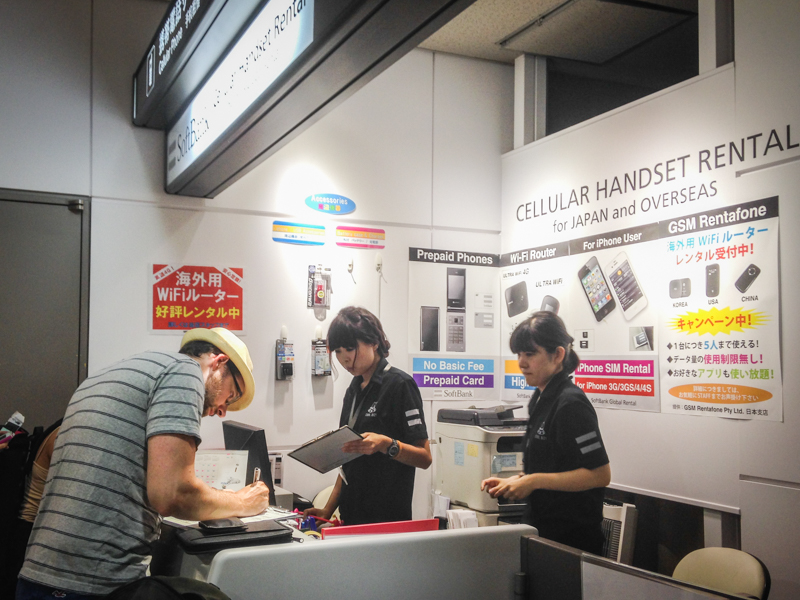 and our glorious apartment owner allowed us to rent a mobile hotspot from him, so we were basically unable to get lost on this trip. The wifi actually worked underground in the subways, as well, so we were all always online, forever using our Google Maps and our Chrome to find the next great ramen spot. I think this probably improved the trip 4000% for us, giving us the freedom to roam wherever we wanted with no fear of never finding Kachidoki again, because Japanese addresses don't work the way U.S. ones do. Tokyo uses a grid system that divides the city into districts instead of using street names, so you'd say, for example, that you were going to block 4 and then building 1 of this city district instead of saying you're going to 245 Long Street. Which is neat and useful if you know what you're doing, but it's not so simple when you don't read Japanese. So what I'm saying is–when you go to Japan, rent a mobile hotspot, or just ask me to put you in touch with the owner of the apartment we stayed in, for real.
The first thing we did upon arriving in this new land of wonderment, of course, was eat some McDonald's from the train station. It tasted like all other McDonald's, which is to say awesome. Jack got the teriyaki burger to at least pretend like he was trying to eat Japanese food, but Nik and I ate regular cheeseburgers with no shame: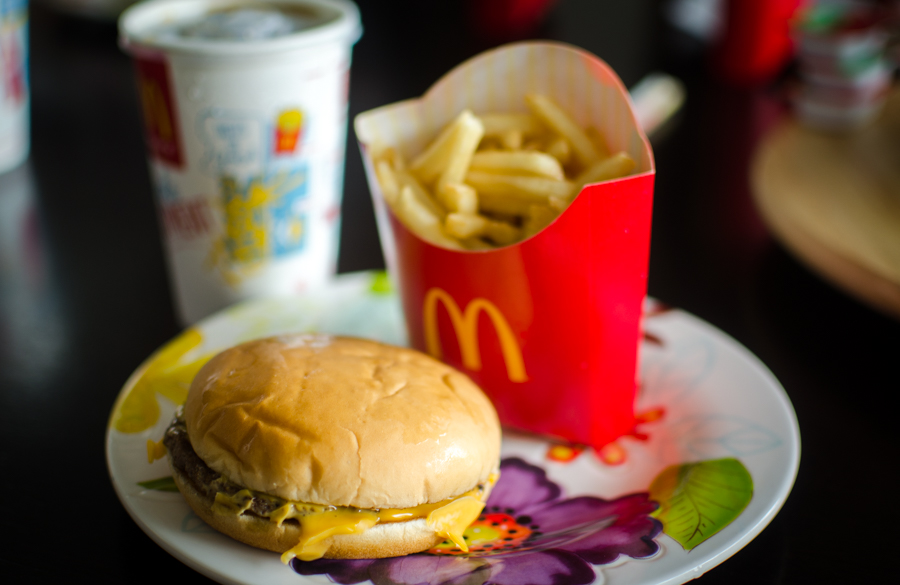 U-S-A! U-S-A!
But that wasn't enough. So we took a cab to Tokyo Station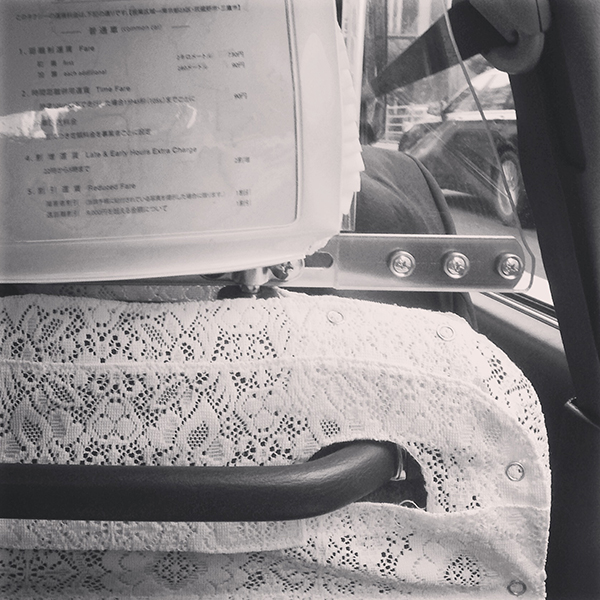 and really thought we had found the only cab in all of Japan with lace seat covers, but it turns out they all have that. Which is at once disappointing and also really, really not disappointing at all when you think about these proper Japanese men sitting around on doilies all day. Japanese cabs also have remote-controlled doors that your cab driver will want to close and open for you from the comfort of his seat, so let him. We asked our first cab driver if he spoke English, and he said no, and we continued to try to speak to him in English anyway, and he tried to speak back to us in Japanese, and then we all gave up and enjoyed the sights. But at the very end of the ride, he said in a precise American accent, "Would you like a receipt?" So either these guys are trained with some fun American catchphrases, or that guy was politely avoiding conversation with the way-too-excited New Yorkers.
I'd read that Rokurinsha was THE Tokyo ramen to try, underground in Tokyo Station as part of a strip of ramen joints they call Ramen Street. There's basically a big mall under there, but we were stuck in the actual transportation part and couldn't get out of the maze, so we had to stop and ask a uniformed worker for help. He couldn't understand a word of what we were saying until we got to "ramen", and then he made a spooning motion and a slurping noise, and we all had a laugh, and then he sent us off in the right direction.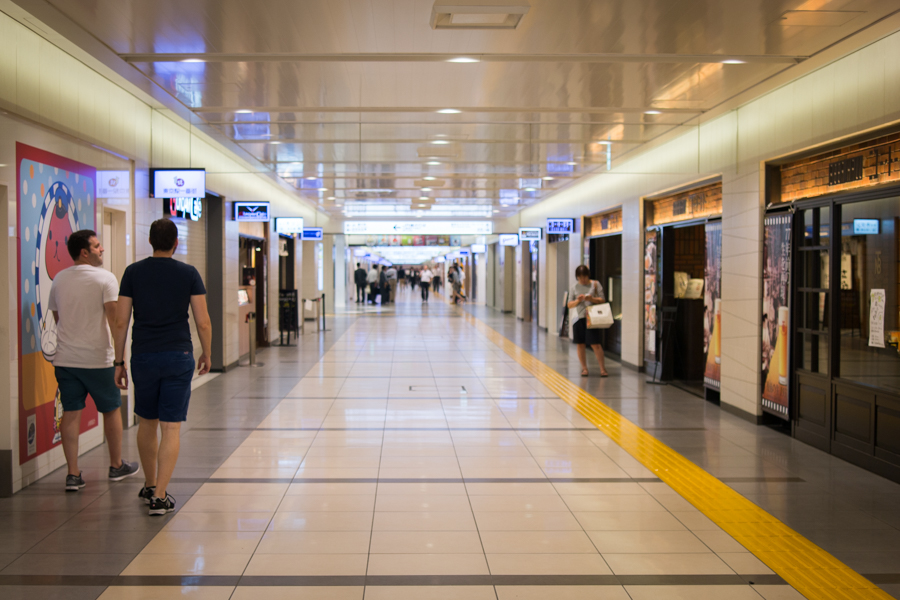 Apparently this place is the most popular ramen down there and usually has hour-long waits, but we found the little honeycomb symbol we were looking for (I don't think it actually said Rokurinsha anywhere), and there was miraculously no one in line.
We thought we'd stroll in and charm some nice waitress into helping us decide what to get, but you actually buy your meal via a vending machine on the way in, so we had just a few seconds to decide. I'd read a blog post that said to choose the one on the very top-left, so that's what we did. It was the ramen full of the most things, including a whole hard-boiled egg, and the most things is always the right thing for me.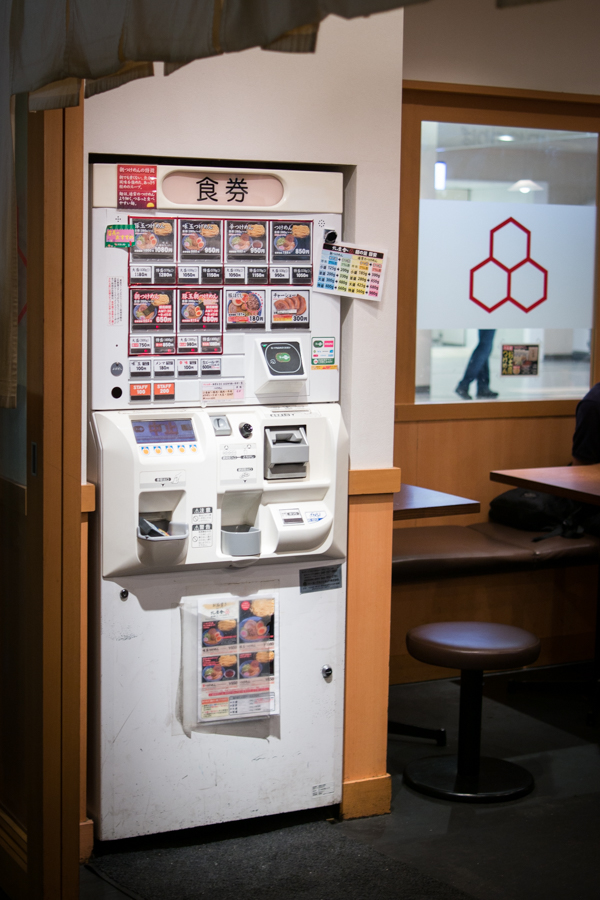 We took our little tickets from the machine, and a few minutes later, a steaming bowl of porky broth arrived with a separate bowl of noodles to dip before eating. Not only was this kind of ramen, called tsukemen, something I'd never had, but I'd also never eaten the super thick kind of noodles that Rokurinsha serves. I was peeing my pants from all of the new experiences. Also from all of the broth I was eating. Ramen can certainly get messy, but luckily Rokurinsha provides ramen bibs, which even the men in fancy business suits were wearing.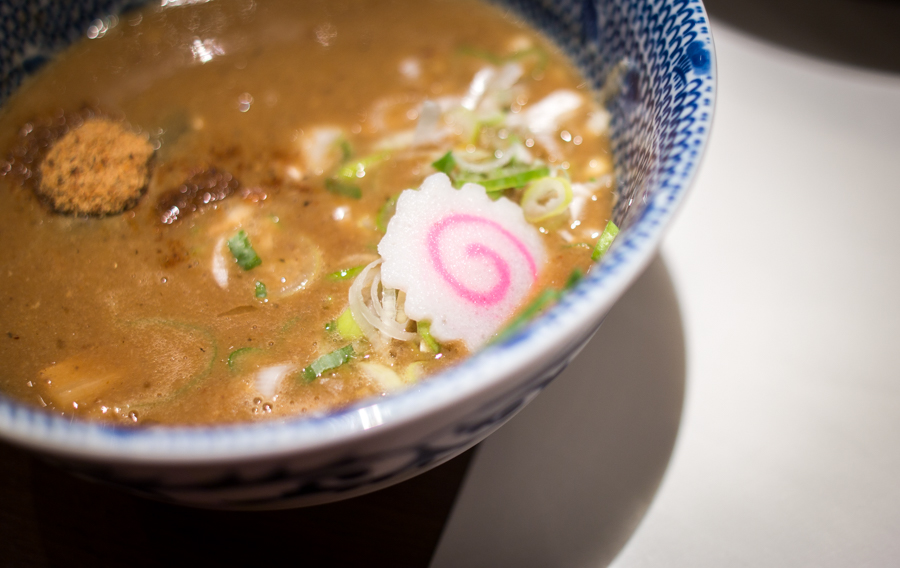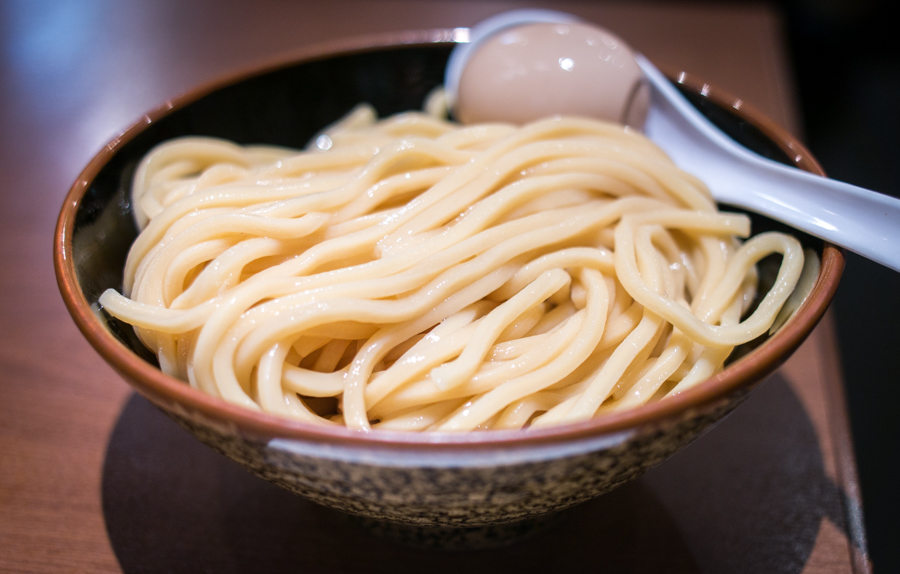 After searching every Family Mart (Japan's version of 7-Eleven) for interesting flavors of Kit Kats with no luck, we returned back to our apartment to sleep. The next morning, we met our friendly Viator tour guide for a Mt. Fuji and Lake Ashi day trip. We'd originally planned to hike Mt. Fuji on Jack's suggestion, but when we realized it takes multiple days and would have required us to bring parkas (which would've been especially hilarious to have in our luggage for the Philippines part of the trip), we decided a nice bus ride up the side of the mountain was probably more our speed. Our tour guide was a wooooonderful young woman named Yuoko who taught us about how the entire family shares the same bath water in traditional Japanese homes (with the father going first, of course), showed us Japanese vs. Chinese characters, told us a folktale ("The Tale of the Bamboo Cutter", which was adapted into The Tale of the Princess Kaguya and nominated for an Oscar last year), and taught us to make Mt. Fuji origami: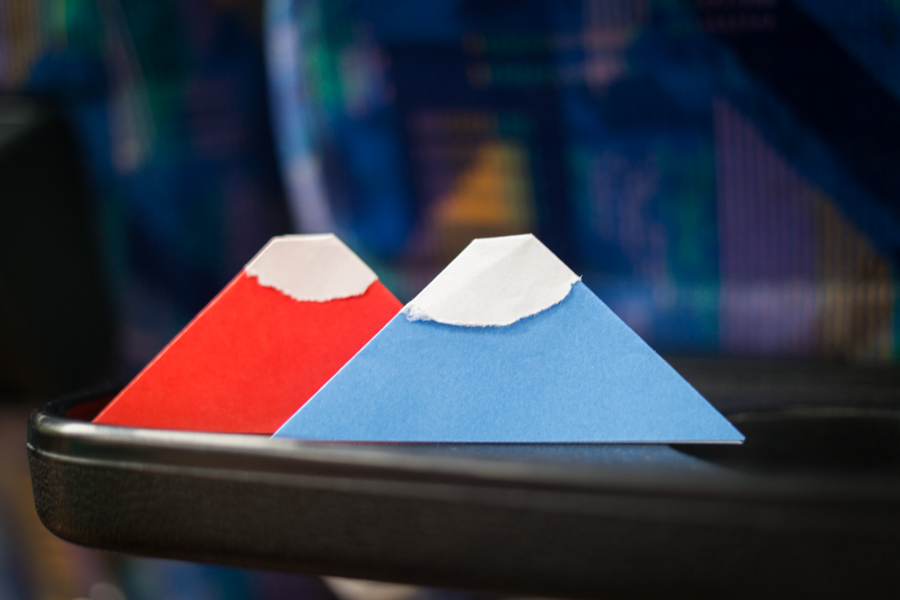 Arriving at the 5th station up the side of the mountain, we were greeted by a ton of fog obscuring basically everything and a forest of trees that grow sideways from the nonstop wind: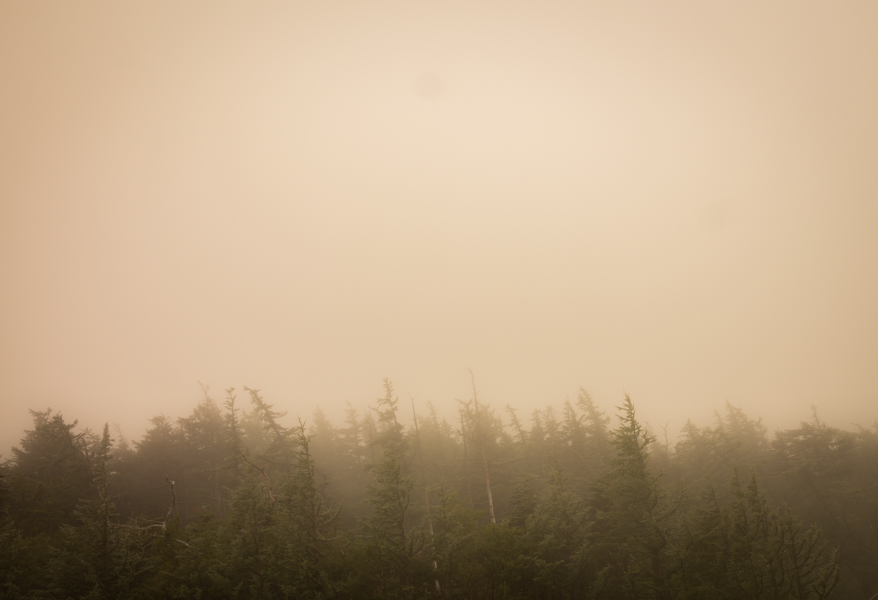 Yuoko told us to buy the Mt. Fuji pastries inside the visitor center, and so we did: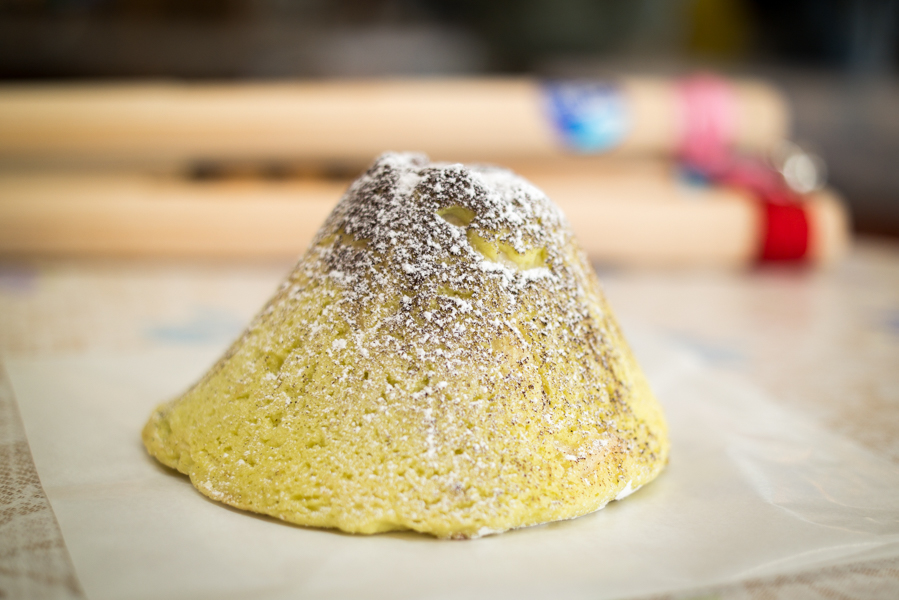 In the background, you'll see our bear sticks, which have bells hanging from the end so hikers can warn bears that they're coming and avoid a surprise meeting along the trail. When we carried them into the aiport at the end of the week, another white dude called out to us, "Mt. Fuji! Quite a climb, huh?" And we were all like, "Haha . . . yeah . . . um . . . glad we brought those parkas!" And then we quickly ran away to avoid any more lies. Here's Nik doing a fairly convincing job of acting like he's about embark on a climb up Mt. Fuji with his bear stick, though: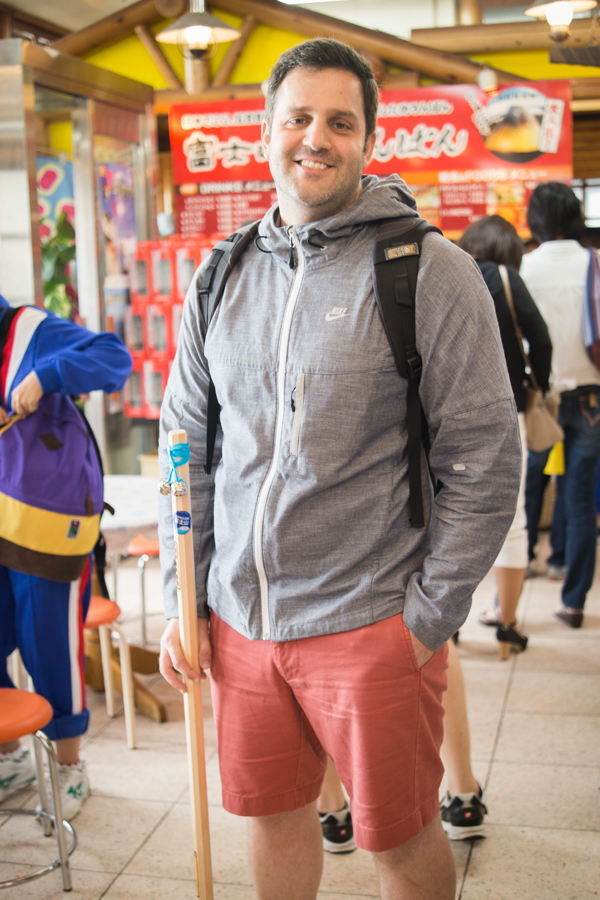 We all bought postcards that the postmaster inside the center stamped with the Mt. Fuji postmark so our families could ooh and ahh when they received their cheesy photos of swans swimming in the lake in front of the mountain, and then we got back on the bus to travel to Lake Ashi and Mt. Hakone after an excellent lunch of fried things suitable for the tourist palate: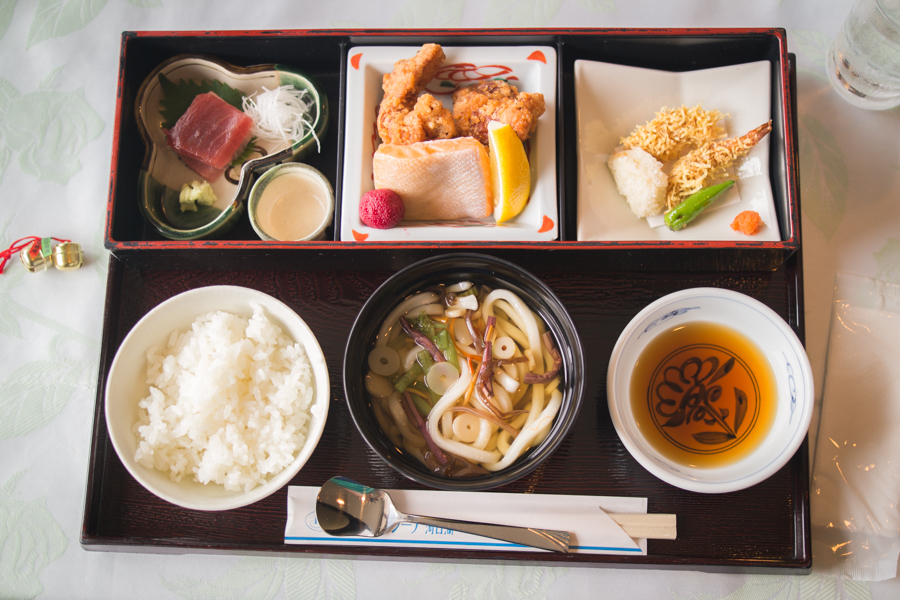 We rode a ferry across Lake Ashi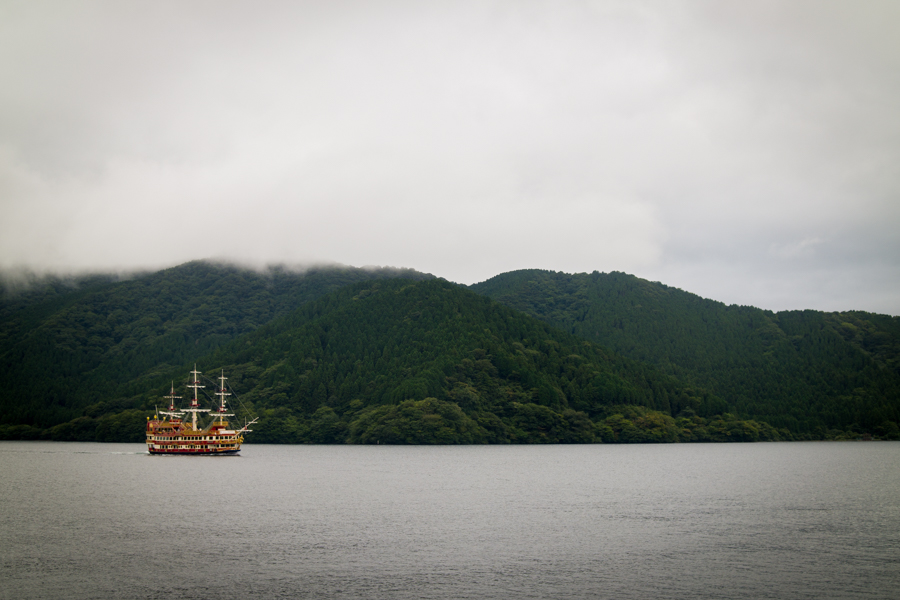 to the foot of Mt. Hakone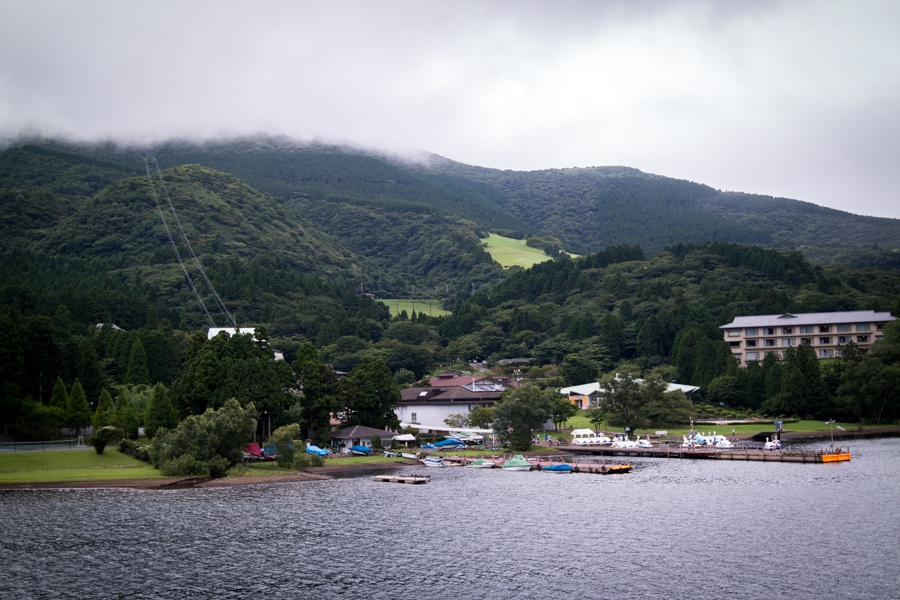 and then got tickets to ride the Hakone Komagatake Ropeway, which Jack is, like, gangsta-modeling here?
Going up, it was all glorious greens overlooking the lake,
but once we got to the top, which supposedly has these amaaaaazing views if you look at that Wikipedia link, we were enveloped in a cloud: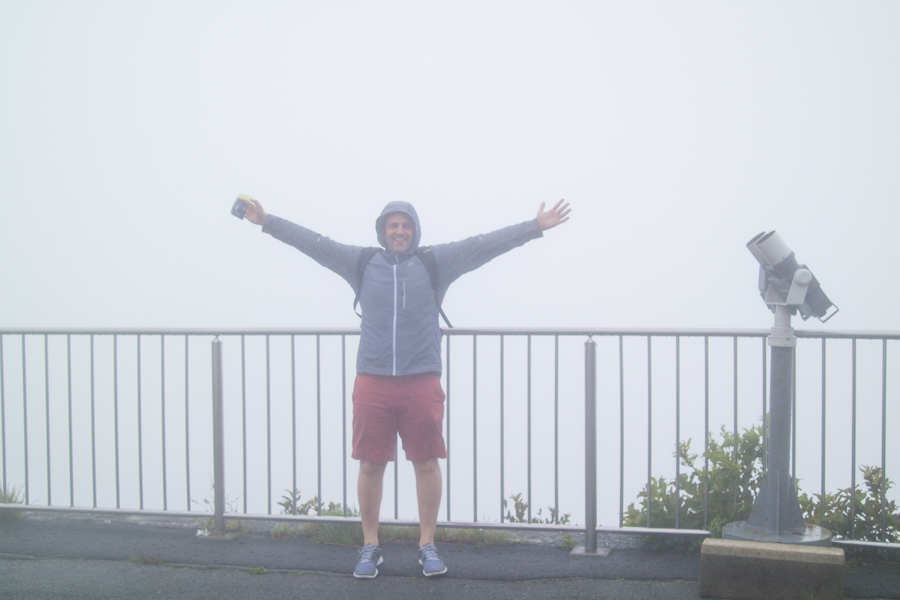 It was at this point that we were like, "Huh. If our tour ends here and our hotel is back at Mt. Fuji, how many different types of public transportation will we need to take to get there?" The answer was FOUR. I blogged the sad little tale here, but the gist is that we decided to take a cab instead to save time, thought we'd pay about $90 for it, and ended up spending two hundred lousy dollars. You should've seen the three of us in the back of this cab with a driver who spoke no English and was probably horrified for the dumb wide-eyed Americans who were watching the meter go up and up with no end in sight.
But the ryokan (hotel), Konansou, was something I just wouldn't want to have missed. This is, after all, a hotel known for serving grilled elderly couple. They gave us special slippers to wear around the hallways, which we of course had to take off before stepping into our hotel rooms, and there were also special slippers to wear in the bathrooms, and the toilets were the electronic kind with seats that lifted automatically when we stepped into the room.
We were invited down for dinner and met our "waitress" for the evening, who was this wonderful woman in traditional Japanese dress who spoke just enough English to be completely adorable and very carefully explained every dish to us as best she could, but most things were still a complete surprise. Especially all of the pink things, which always looked like they were covered in frosting but turned out to be savory sea creatures. And the carved white leaf-looking thing with the magenta end, which I took a huge bite of before realizing it was ginger.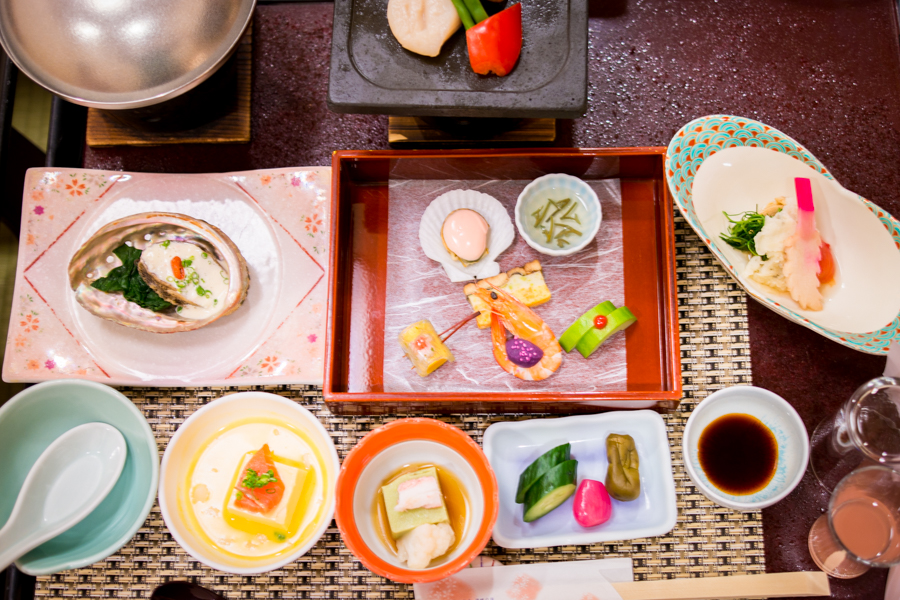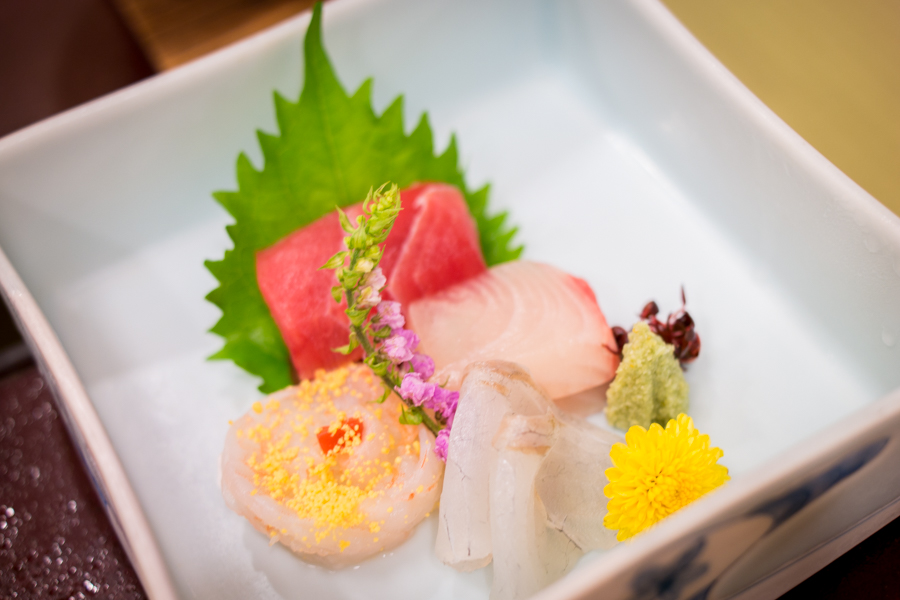 I was living for shiso leaves on this trip.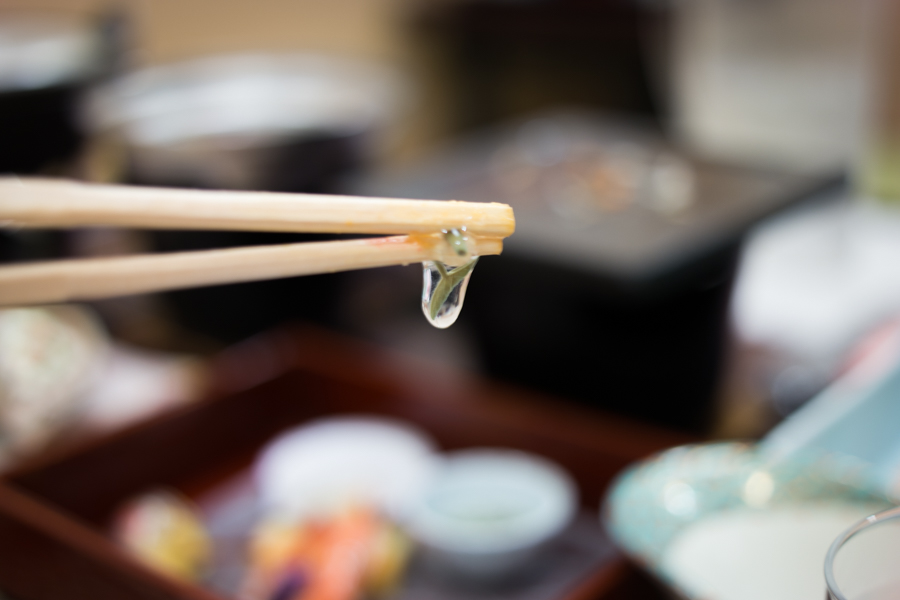 Mmm, slimy ocean vegetation!
There were many, many unexpected courses full of local delights, but the most memorable part of the meal was definitely the service. Each party was in a private room with tatami mat floors and those very lightweight shoji doors with the paper windows, so our server would get down on her knees, knock on our door, slide the door open, get up to walk in, and then get back down on her knees to stir our soup or refill our tea. And then she'd do the same thing going back out, including getting back down on her knees to close our door. It felt so respectful and unwarranted.
After dinner, Jack and I went back to our room and found that while we were gone, someone had come and moved the table from the center of the room over to one side and unrolled some futons for us to sleep on: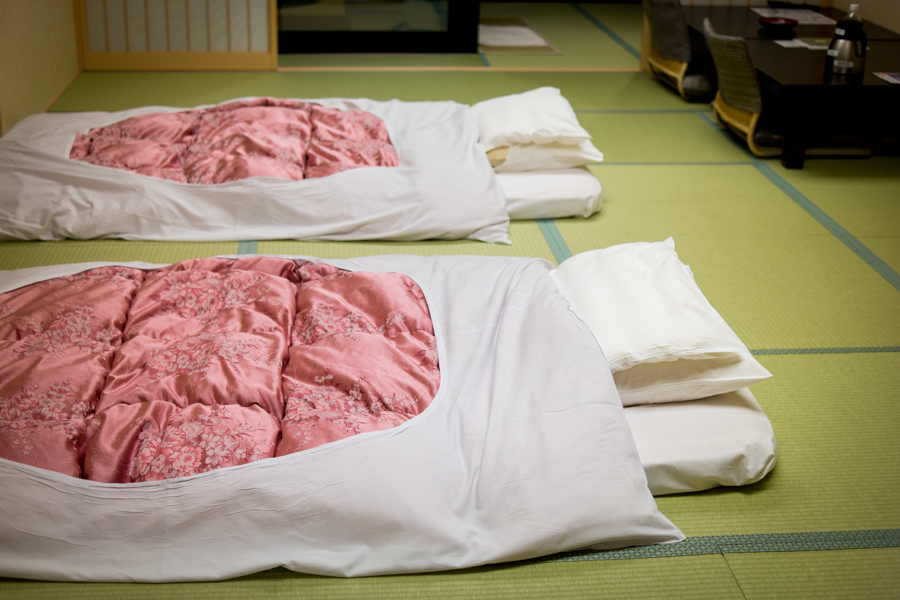 This particular area of Japan is known for its natural hot springs (onsen), so Jack and I had booked a room with a private open-air hot springs bath on the balcony. It was chilly by the mountain that night, but the bath was blazing hot and so relaxing.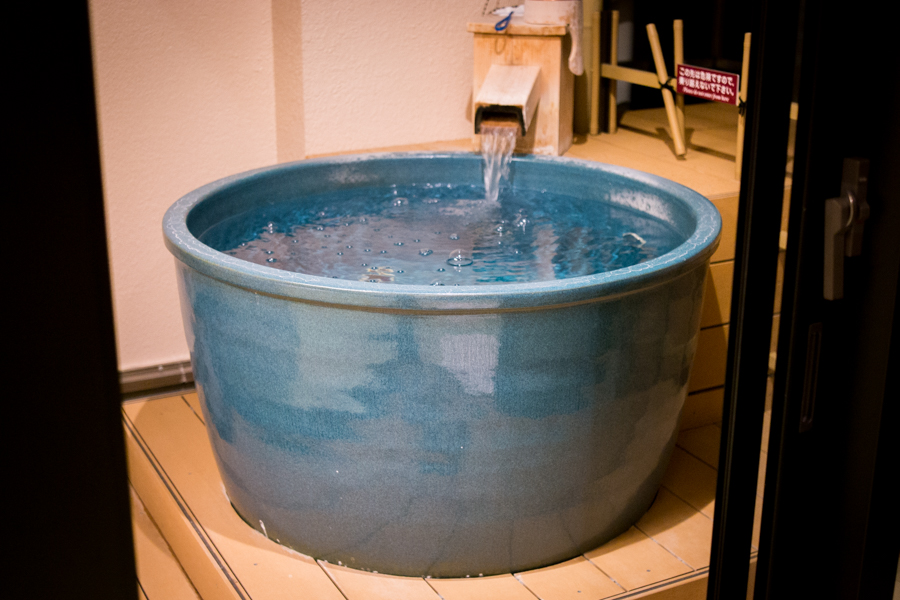 Nik came over and joined us for a while, and the sight of the three of us sitting in that tub meant for two was probably priceless, but the town below us was completely still by that time. The water level was regulated by a sensor somehow, so after all three of us settled in and pushed out about half of the water, it filled itself right back up, to our delight. Afterward, we all went over to Nik's room, which had a view of Lake Kawaguchi, to do some long-exposure photography. I hadn't brought a tripod with me, so the boys did all sorts of jury-rigging to get a stable surface for me. True friends!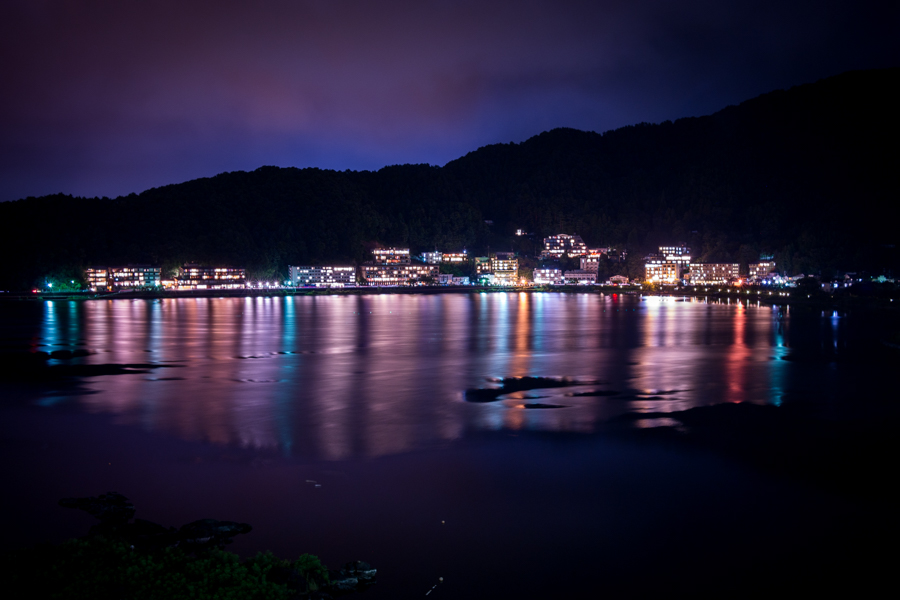 And that was the end of Day 2. On to Day 3!
---