I let my friend Kim talk me into Birchbox after months and months of avoiding it. I thought I was too picky about the ingredients I put on my body. I thought my skin and hair were too ~particular~ to do well with whatever was randomly packed in my box. But it turns out that the two-minute questionnaire Birchbox has you fill out when you join really works.
Here's an unboxing of my first two Birchboxes: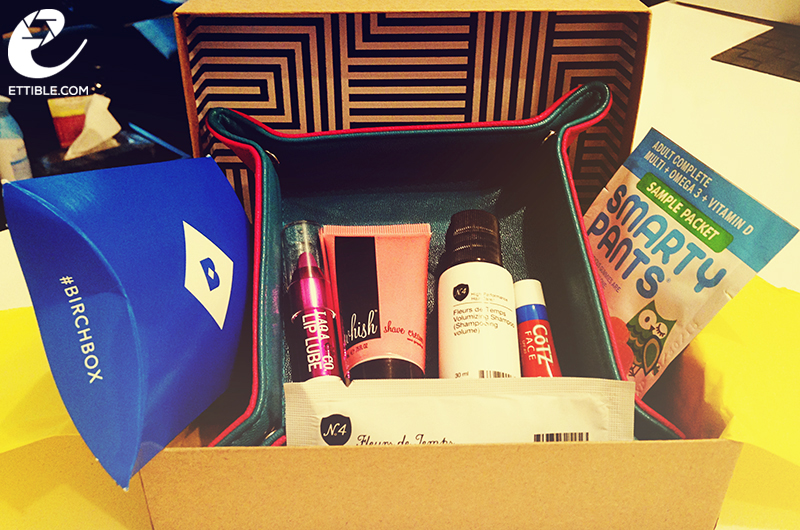 • LAQA & Co. Sheer Lip Lube Pencil – Purple (here's me wearing it and looking so scared/hopeful)
• Whish Shave Crave Shaving Cream – Acai Grapefruit (so creamy and smells so great)
• Number 4 High Performance Hair Care Volumizing Shampoo (so thick and rich that I only need a drop)
• CoTZ Face Natural Skin Tone SPF 40
• SmartyPants All-in-One Gummy Vitamins for Adults
• Number 4 High Performance Hair Care Volumizing Conditioner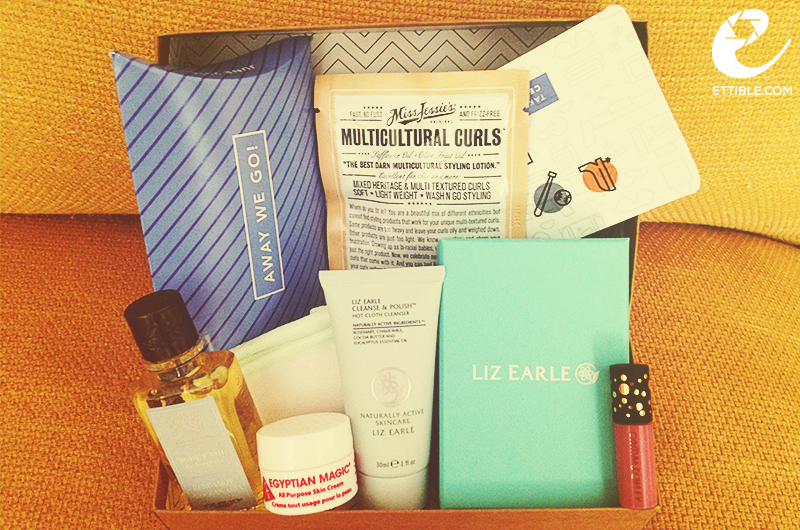 • Miss Jessie's Original MultiCultural Curls
• Antica Farmacista Bergamot & Ocean Aria Body Wash
• Egyptian Magic All-Purpose Skin Cream (we figure that the totally generic packaging of this means it's secretly awesome)
• Liz Earle Cleanse & Polish Hot Cloth Cleanser Starter Kit (Kim and our other friend Katie already got this in their Birchboxes and said it's amazing)
• Cynthia Rowley Beauty Creamy Lip Stain – Sugar (so slick and hydrating, I'm getting the full size of this yesterday)
They somehow know all of my colors! And know to include things that are sulfate-free and full of essential oils and natural butters! And I would've never bought purple lip gloss for myself, but it totally works! The Miss Jessie's curl stuff is hilarious, because the back of the packaging is all, "Where do you fit in? You are a beautiful mix of different ethnicities," and "Growing up as bi-racial babies, we were always searching for just the right product . . ." And I'm like, "Nope, not in the least." But the product does sound exactly right for my hair type! And all for $10 per month with shipping included.
It's so fun to get a present in the mail every month, and it helps that the packaging is always so pretty. It's always a box inside of a box with an even smaller box further inside to protect the breakable items, which gives it the appeal of those Russian nesting dolls for me. Unpacking it with Kim and other friends who've been getting Birchbox for a while is so fun, because they're always like, "OMG, that face wash is so good. You got a great box," and it makes me feel like I somehow had anything to do with making great choices for my life. And then I use pinhead-sized amounts of the products for the next few weeks since I love them all and want to make them last.
Do you love Birchbox? Or do you still need to sign up? If you want to try it, use my signup link so I get points to use toward buying more purple lipgloss. And then show me what you get in your box!
---